From globally inspired baby and toddler food embracing texture to upcycled pasta chips featuring Italian and Asian flavors, products that pack a punch were on full display at Natural Products Expo East.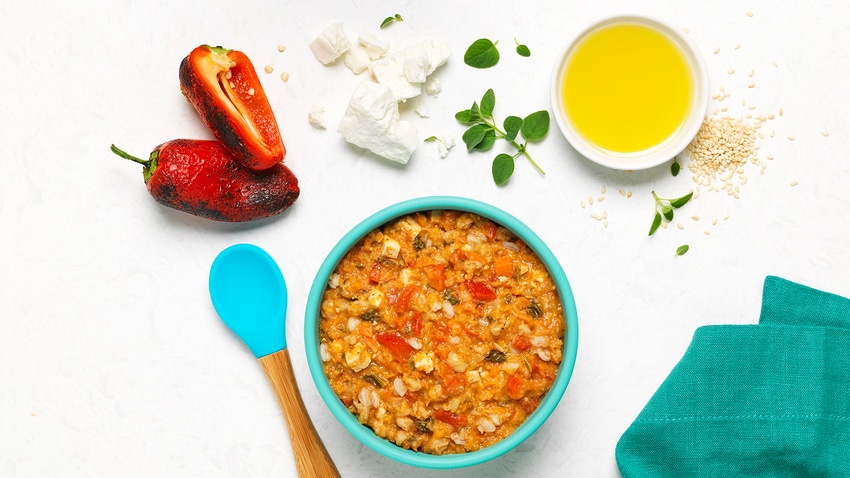 At a Glance
There is a growing trend of global flavors in the food industry, from baby foods and entrees to snacks and condiments.

Globowl utilizes flavorful, textured ingredients to help expose tots to allergens early in life and avoid food aversions.

Other companies like OmSom, Better Sour, S'noods and Wildbrine are also creating products with globally inspired flavors.
The baby food aisle can be daunting, especially for first-time parents. The sea of options—pouches, glass jars, plastic containers—is filled with endless combinations of magical purees using fruits, vegetables and even meats. Many, if not the majority, are packed with preservatives, additives and other artificial ingredients to sweeten, maintain desired coloring and extend shelf life. Most packaging also isn't very appealing, specifically opaque receptacles.
Globowl, a 2-year-old baby and toddler food company, is transforming the way these foods are created. Utilizing textured ingredients like tofu and quinoa and bold flavors like garam masala and cayenne pepper, as well as top allergens like peanuts and eggs, the company offers internationally inspired meals in recyclable glass containers for tiny tots to "spark a lifelong love of adventurous eating."
"Texture is important for oral motor development so kids don't have texture aversions later on," Erica Bethe Levin, founder and CEO of Globowl, said. "When kids are constantly sucking down pouches or eating purees, they're not learning how to chew. They develop these aversions to texture down the line."
Globowl currently offers four flavors—Yaya's Medi-Bowl, Baby Spice's Bean Bowl, Veggie Tikka Masala and Pad Thai for Tots—which were personally curated by Levin and the company's chef advisory board to expose children to allergens and global flavors early in life and ultimately prevent picky eating.
"We have a chef advisory board consisting of chefs who specialize in their particular cuisines; they either have restaurants or are professionals in the industry," Levin explained. "They help authenticate all the recipes." Dan Burrows, a classically trained chef with more than 30 years of experience in the CPG space with companies like Unilever and The Kraft Heinz Co., is a member of the board who worked closely with Levin to bring the company's first four SKUs to market.
Burrows and Levin explained how children have a "flavor window" between 4 and 18 months of age, which research shows is a timespan during which their eating habits are most easily influenced because of their openness to trying new foods and flavors. This was a driving force behind incorporating bold flavors such as fish sauce, coconut milk, tamarind, feta, tahini and roasted red peppers into the meals.
While flavor and allergen exposure are top priorities for Globowl, the company also has a board of advisors comprised of pediatricians, pediatric nutritionists and pediatric dentists to ensure food safety. "All of the food is prepared with safety in mind," Levin said. "It's cooked to the size that's actually smaller than doctor recommended and it's cooked with texture that is almost like a tofu, so even if kids starting at 4 months or 6 months don't have teeth, they can safely gum our food. We really have thought of everything."
Next on the horizon: Mexican and Italian flavors, Levin said. "We want to expand to other parts of the world. The idea that kids can learn about the world through food, I think, is really cool.
"There's a QR code on every jar, which opens a 'window to the world' where you can see where the food comes from and why it's important to that culture," she explained. "Kids see a kid on the other side of the world that's eating the same food as they are. It's based around this idea that food is really the universal unifier and that we can teach kids about open mindedness from the very beginning."
Natural Products Expo East
At the recent edition of Natural Products Expo East, which took place Sept. 20-23 in Philadelphia, global flavors took center stage, from snacks and entrees to condiments and beverages. According to recent data from SPINS presented during one of the keynote addresses, consumers are spending more on Asian, African and Hispanic products as they continue to clamor for diverse meal solutions.
OmSom, a CPG company founded in 2020 by first-generation Vietnamese sisters and daughters of refugees, initially launched with a line of Asian-inspired sauces. Co-founders Kim and Vanessa Pham have since expanded the company's line of products to include meal kits with noodles and sauces in a variety of Vietnamese-, Chinese- and Thai-inspired flavors.
"We were always minimizing our cuisine to try and fit in … but now we're seeing a global renaissance," Vanessa said during the keynote. "We're working to change the face of American grocery."
In addition to successful collaborations with fast-casual "creative salad company" Chopt and The Walt Disney Co., OmSom works with professional chefs to curate each flavor to deliver authentic experiences. Offering two Chinese-inspired flavors, Soy Garlic and Chili Sesame, the company recently unveiled two new flavors, Coconut Lemongrass Curry (Thai inspired) and Garlic Black Pepper (Vietnamese inspired).
Candy company Better Sour, which launched last spring at Natural Products Expo West, is elevating global flavors in the confectionery aisle with its low-sugar, plant-based sour gummies. Highlighting Middle Eastern and Asian flavors, the products were created by best friends and daughters of Iranian immigrants, Bella Hughes and Semira Nikou, who were raised in Hawaii.
With only 3 grams of sugar and 60 calories per 1.8-ounce bag, the naturally flavored gummies are offered in two combinations consisting of three flavors each. The guava, calamansi and ube mixture was inspired by tropical fruits from Asia that are popular in Hawaii; and the apricot, pomegranate and plum mixture was inspired by tart stone fruits and pomegranates from Iran, which are popular throughout the Middle Eastern region.
Woman-founded company, S'noods, is also making waves in the snacking space with its globally inspired pasta chips. Launched in 2023 by chef and recipe developer Lauryn Bodden, winner of Netflix's "Snack vs. Chef," S'noods are gluten-free "snack noodles" offered in three flavors: Rigatoni Basil Pomodoro, Spicy Miso Ramen and Cavatappi Carbonara. The crunchy noodles incorporate upcycled okara flour derived from gluten-free pasta production. Bodden said she is working towards sustainable packaging, as her goal "is and always will be to provide climate-friendly snacks."
Wildbrine, a 12-year-old company specializing in fermented foods like kimchi and sauerkraut, has been experimenting with international flavors since its inception. In addition to its lineup of fermented vegetable mixtures and condiments, the company recently launched a new line of pickled vegetables called WildVINE, which features four globally inspired flavors: Banh Mi Medley, Curtido, Escabeche and Picked Red Onions with Jalapenos.
All products are created using locally sourced vegetables, some of which are prepped by hand. "We roast whole cloves of garlic in an oven not very different than your home oven; we hand-peel ginger and horseradish; we hand-stem pepper; and we fire-roast peppers and onions over a grill," Chris Glab, co-founder of Wildbrine, said.
One thing is for certain: Global flavors continue to trend in the industry. These products are only a taste of the innovations companies are offering to cater to the demand.